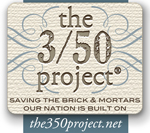 With the holiday season upon us, please remember to shop with a conscience. You have many options when it comes to how and where to spend your money. I know it's easy to go to a big store with lots to choose from--you might finish off your list right there. No, they won't wrap the gifts for you. No, they won't help you find the perfect thing for Aunt Emma. You'll be lucky if they thank you for your business or wish you a happy Christmakwanzakuh. Please think about the principles of the 3/50 project as you do your holiday (and every day) shopping.

3--Think of the three independently owned stores in your community that you would miss if they were gone.

50--If just 50% of the employed people in the US spent $50 each month in these independently owned stores, their purchases would generate more than $42.6 billion in revenue!

68--for every $100 spent in independently owned stores, $68 returns to the community through taxes, payroll, and other expenditures. If you spend that hundred bucks at a national chain, only $43 stays here.

Spend it online, and nothing comes home.

Even better if the proprietor of the store is in this mentality and the ripple effect takes over! This can be applied to restaurants, bars, gas stations, and grocery stores as well--keep the $$ in your community.

Okay, I'm done preaching, I just wanted you to be armed with this information before Black Friday fliers blind you to these options. And don't get me started about the ecological footprint of shopping at those stores. . . I'll save that for another post.